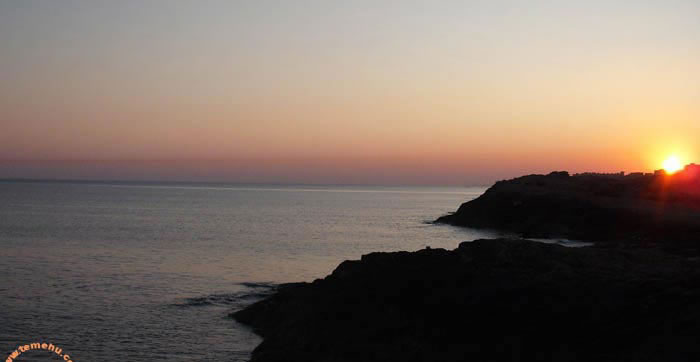 Introduction To Our Tours
North Africa boasts some of the finest travel destinations in the world, including the magical Berber Atlas mountains of Morocco, the flat sand beaches of Tunisia, and the great pyramids of Ancient Egypt. But some of these wonderful tour destinations have become crowded and no longer appear to provide an exciting challenge to experienced travellers. Libya, on the other hand, is a new destination, unknown, unexplored, totally unspoiled, and features a number of unique and impressive archaeological and natural sites. As an emerging sand, sun and sea destination of the future, Libya is truly blessed with archaeological cities and world heritage sites, spanning all periods of history, right from the Stone Age and the?Pleistocene to the Byzantine times and the modern sagas of World Wars.
Planning Your Tour & Choosing Your Libyan Tour Operator
To start planning your tour it is best to start familiarising yourself with the geography and the culture of Libya and its rich archaeological heritage. Ask your Libyan tour operator to provide you with any information you may require before you make your final decision. You can also have a look around this website, making sure you visit our interactive map (accessed from the Maps menu at the end of this page) to have a general feel about the various regions of Libya and explore the vast distances separating Libyan sites.
Regions of Libya


Tripolitania:
in the west, where you can visit Tripoli's national museum for a brief insight into the history of Libya; visit some of the Phoenician and Roman sites of Tripoli, Leptis Magna and Sabratha; enjoy the best Libyan beaches of Zuwarah and Farwa; find out more about the new Free Trade Zones, Libyan tourism and the new investment opportunities; and explore the Berber towns and villages of Nafousa Mountain, like Nalut, Kabaw, Jado and Yefren.
Cyrenaica:
in the east, where you can visit Benghazi, the second largest city in Libya; explore the sites of Cyrene, Tolmeita and Apollonia; see World War Two sites in Tobruk (and Alburdi); visit pre-Greek Berber sites, like Slontha, and enjoy the spectacular scenes of the verdant Green Mountain of Eastern Libya, overlooking the Mediterranean Sea.
Fezzan:
in the south, where you can visit Ghadames at the edge of the desert, then venture south into the Sahara's secret valleys and mountains for a breathtaking glimpse of Libya's prehistoric civilisations of Germa and Tadrart Acacus (/akakous/); enjoy the fantastic range of Ubari's kaleidoscopic lakes and palm-fringed oases; study, sketch or photograph some of the thousands of prehistoric art sites and shelters; watch the spectacular sunset over the towering sand dunes; and gaze at the dazzling stars of the desert's mythical sky, which makes Fezzan a truly wonderful world of its own.


How much time do I need to see Libya?
The answer to this question depends on how much you want to see. If you want to sample most of Libya, including the best popular sites of the Sahara, then you need at least 30 or 40 days. But the average time most visitors spend in Libya is between 9 and 15 days. So the best thing to do is pay a quick visit to see what Libya is really like, then you can always return for more.
1 - 4 Day Tours



These short trips to Tripoli are ideal for weekends and for those visiting Libya for business, educational reasons, or for a weekend break in Tripolitania or Cyrenaica. We can secure the appropriate visa and have it ready for you, reserve a room for you of your choice, meet you at the airport, and assist you in every way to make your weekend a memorable stay.
7 - 10 Day Tours



These tours are suitable for quick visits to selected Greek and Roman cities of Tripolitania and/or Cyrenaica, like Sabratha, Leptis Magna, Cyrene and Apollonia, and some Berber sites, like Zuwarah, troglodyte Yefren, Nalut (in Nafousa Mountain), and even as far south as Ghadames ('the Pearl of the Sahara'). Ten days would be ideal to explore the best Roman and Greek sites of Libya. Most tours fall into this category.
15 - 20 Day Tours



These tours are suitable for full holidays or for exploring Libya's coastal treasures and desert sites. You can either choose one of the popular tours combining Tripolitania and/or Cyrenaica and Fezzan, or select your own destinations from these regions as you go. Also you can spend the whole of your holiday in one place, say by the beach or in Farwa. With at least two weeks in hand, you can also visit the Sahara and venture deep into the Acacus (Akakous) valleys and further south towards the extinct volcano of Was an-Namous. These tours are ideal for those who love to travel or drive in the desert and relax by the kaleidoscopic lakes of the great Ubari Sand Sea; as well as for those wishing to experience life in the Sahara and explore the prehistoric arts of Acacus and the rock engravings of Wadi Metkhandoush.


Alcohol-Free Beer
Food While Travelling In The Desert

This is the kind of food we usually provide during desert tours.
Food is optional. Desert food means food during desert travel where 4x4 is required and where there are no shops, like Acacus, Methkhendoush, Hamada and the Lakes. If chosen to be included in the itinerary, desert food will include three meals, soft drinks and bottled water. Breakfast includes the usual bread, cheese, butter, croissants, jam, honey, milk, eggs, tuna, fruit juice, coffee, tea and biscuits. Midday lunch usually consists of light food which is recommended during desert travel, like fresh salad with olives, cucumber and tomatoes, bread, tinned vegetables, beans, tinned sardines, various fruits, water and soft drinks. Evening meal is normally cooked and consists of soup, and either rice or pasta with chicken or meat, with plenty of vegetables and bottled water. Of course, travellers can choose to take care of their food during desert tours as well, and buy all they need from the last available shop before entering the actual desert.
Coastal & Desert Transport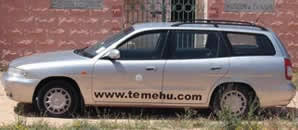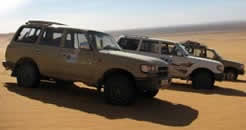 For independent travellers and individual tourists who have their own vehicles and want to save some money our guide can travel with them. But for those who prefer to travel in private then our guide will have his own transport. For one or two visitors who do not have their own transport we usually use ordinary cars (as in photo, left). For small groups we normally use Mercedes Benz Vito and Mercedes Sprinter (middle photo); while for bigger groups we use mini buses or coaches. All vehicles are air-conditioned.
For desert travel we use air-conditioned 4WD vehicles, mainly Toyota Land Cruisers, which provide both comfort and value for money; luxury and more expensive four wheel drives are provided only on request. Please note that for serious desert drive the Toyota has outperformed all other vehicles including the Hummer, the Land Rover, the Range Rover and the Jeep. The maximum number of passengers per a desert vehicle is 3: two in the back seat and one in the front.
If internal flights are used in?our programs, please?keep in mind that domestic flights in Libya, especially those between the smaller airports like Ghadames, Kufra and Ghat, are always subject to cancellation and delays, and therefore if domestic flights were requested to be used and then were cancelled upon or after arrival, the agreed itinerary will be affected and consequently an alternative land transport would have to be provided instead. Flights between the main airports, namely Tripoli, Benghazi and Sabha,?are not normally affected, except the flights?between Sabha and Benghazi, which are affected by frequent delays.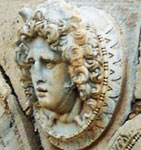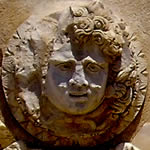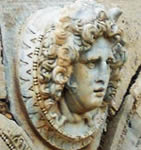 Head of Libyan Gorgon (Medusa)