Jalu & Awjla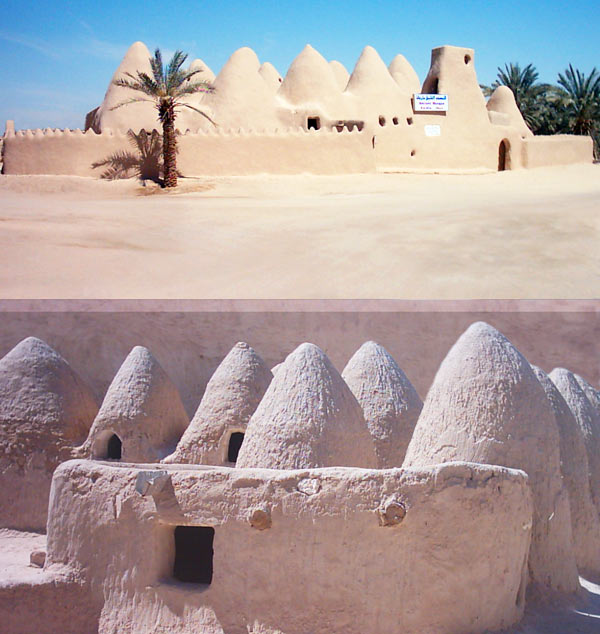 Ancient mud mosque from the Berber oasis of Awjla, in Eastern Libyan.
Jalu
Jalu or Jalo is a small oasis inhibited by around 14,500 people, mostly Berbers. The oasis is located around 400 KM to the south of Benghazi, along the way to Kufra. Until recently, the oasis was a transit centre for caravans coming from Cairo to Timbuktu and on to the heart of Africa. Ivory and ostrich feathers were brought to Benghazi via the oasis until the early 20th century.
Being one of the most important oases in Libya, Jalu is surrounded by lucrative oil fields. The locals however have been complaining to the various Libyan authorities of the past century for being neglected and deprived of a fair share of the local wealth, tunneled elsewhere.
It is also a large producer of high-quality palm dates and tomatoes. In ancient times, Herodotus informs us that the Berber Nasamones of Eastern Libya leave their cattle by the coast and head for the oasis of Awjla to harvest the much-sought palm dates.
Awjlah (واحة أوجلة)

Awjla, Awjilah or Owjela is a nearby oasis, also inhabited by the Berbers, and located around 200 km south of Benghazi. The oasis is made of three agricultural areas, namely Mazouz (to the north), Swani (in the centre) and Blad (in the south). One of the most characteristic feature of the oasis is its Berber-styled, mud-built, ancient mosque (shown above).