Public Transport In Libya
Public transport in Libya simply means shared taxis, buses and coaches. During the previous regime it was not possible for tourists to travel alone using public transport, but now the restriction has been lifted, and travellers can use public transport.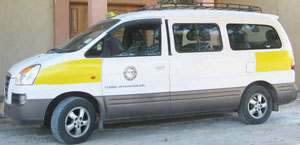 Tripoli City's Shared Taxi

Shared taxis operate from the centre of the capital to most of the other areas in the capital.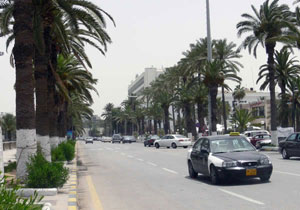 Tripoli City's Private Taxi
Private taxis in the capital operate like other private taxis in other countries. Private taxis are found only in large cities as well as the capital Tripoli.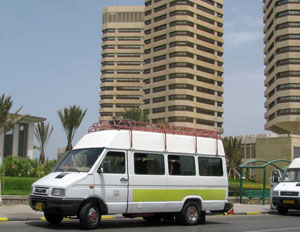 Tripoli City's Public Taxi
The public taxi is like a bus: it travels from one area to another and stops at designated stops.
Questions & Answers:

Q:
Can I use public transport in Libya as a tourist?

A:
Yes.


Q:


Can I hire a car in Libya?



A:




Yes, you can. But the cost would be much higher than if your tour agent hires the car, because you need to pay a high insurance and a high deposit (which varies from company to company). It is always cheaper and much safer to let your tour agent provide you with a private transport.

Q:
If I arrive via the airport and then decide to depart via the Tunisian border; can I take the coach or bus from Tripoli to Tunis.

A:
Yes, you can.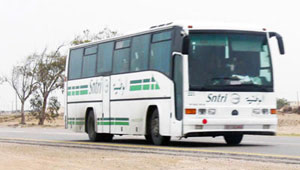 Tripoli-Tunis Coach (Bus)
This is an example of an international coach, operating between Tripoli and Tunis.
Car Hire
You can hire a car in Libya, but this is not recommended. There are several reasons for this including:
The accident rate can be high at times, and also hire cars may not be well maintained.
The cost would be much higher than if you let your tour agent hire the car in their name, and have the cost included in the price of your tour.
Insurance claims can take a long time to complete (even years).
You will assume all responsibility of the vehicle including damage and accidents.
Libyan Railway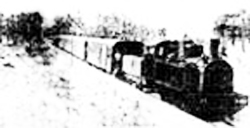 A photo of an old train from 1940s Libya.
Currently there are no trains in Libya, as the old lines were removed a few decades ago. The old line was mainly running along the coast from Cyrenaica to Zuwarah (near the Tunisian border). However, there are plans underway to reintroduce the railway lines. According to the chairman of the Libyan Railways Executive Board (REB), Mohammed Ali, as quoted by the International Railway Journal (January 2001), there will be two sections of the 3300km railway, one running along the coast from the Tunisian border to Benghazi (and ultimately to the Egyptian border), and another cutting south to Sabha from coastal Misrata (and ultimately with plans to connect with central Africa via Chad and Niger).
Air Travel:




Internal flights are maintained daily between Tripoli International Airport, Benghazi Airport and Sabha Airport; with intermittent services between the other minor airports of Ghadames, Ghat, Tobruk and Kufrah. For more details, flights and prices please refer to our page: https://www.temehu.com/internal-flights-and-airports.htm