Meghedet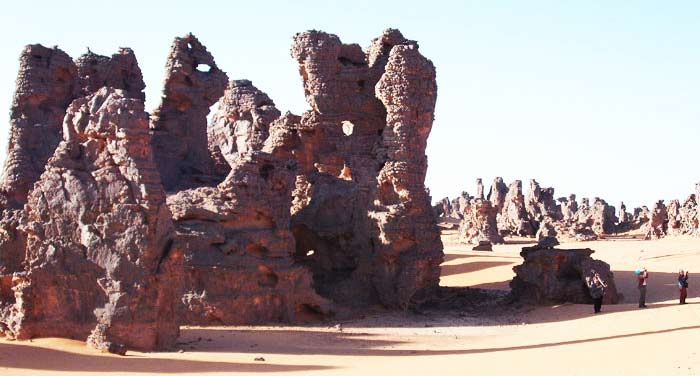 Almost as if it was built by some prehistoric mystery entities!
Meghedet, Meggedet, Maghedet or Maridet, is a bizarre world of strange rock formations and endless arrangements of natural sculptures, statues and monoliths that defy the known imagination. Being close to the haunted Cave of the Jinn (the rock fortress of Idinen, also known as the legendary Fortress of Ghosts or Kaf Ajnoun Mountain), one begins to wonder if there is some truth in the myths told by the native Tuareg of the area regarding the invisible alien inhabitant of these deserted desert cities and natural rock castles. The atmosphere and the amazing scenery are definitely out of this world and it is surprising that film directors are yet to awaken to this alien reality deep hidden in the heart of the great Sahara desert. The site is located in Fezzan, South-West Libya, and is reached via the road from Sabha to Awaynat, after which you need a 4WD to cross into Meghedet. The rock formations undoubtedly look like they have been purposely built by invisible powers from the Sahara's primeval past. Of course, wind and water are included.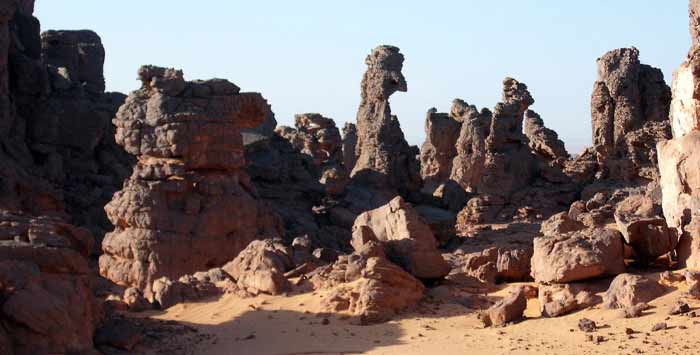 Can you see a huge chicken head stared at by a devil-like bear before an alien attorney?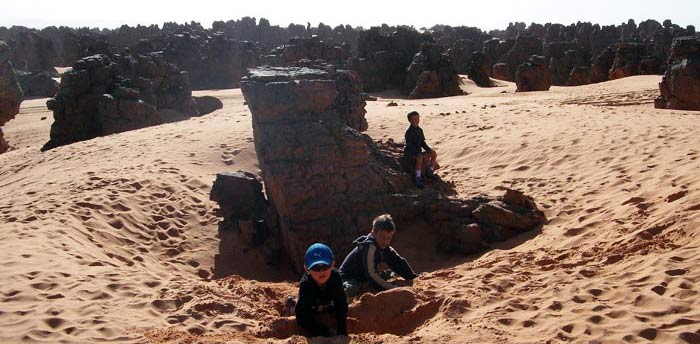 Meghedet Sand Pit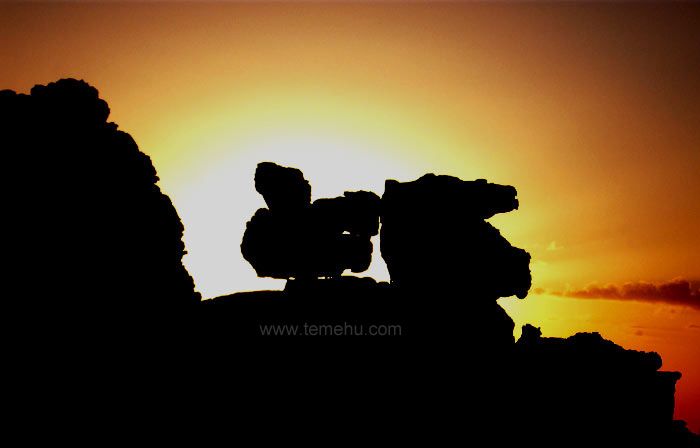 100% Natural rock formations.
Awaynat - Meghedet
Leaving Awaynat you will reach Erg Titersin after about 20 kilometres. Crossing the erg you will head for Meghedt (or Maridet) after around 50 Kilometres drive. The area is a bit higher than the surrounding area and is mainly made of rock formations of all kinds. The site of Megheddet is not touristic in the normal sense, as it is a very isolated place and is seldom visited. It is an "out-of-this-world" place, with a strange world of rock formations and bizarre mountains and monoliths.  The rock formations are separated by small sand dunes and sand pits. There are no settlements in this region and there are no art sites, just beautiful landscape and pure desert nature, full of mazes and complex formations, among which one can easily get lost.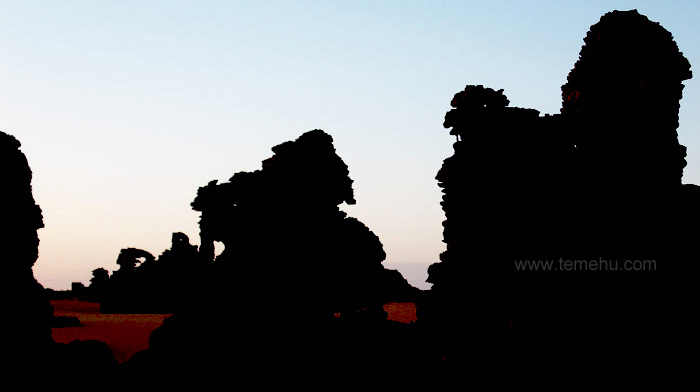 Unbelievably bizarre rock formations endlessly repeating into the horizon.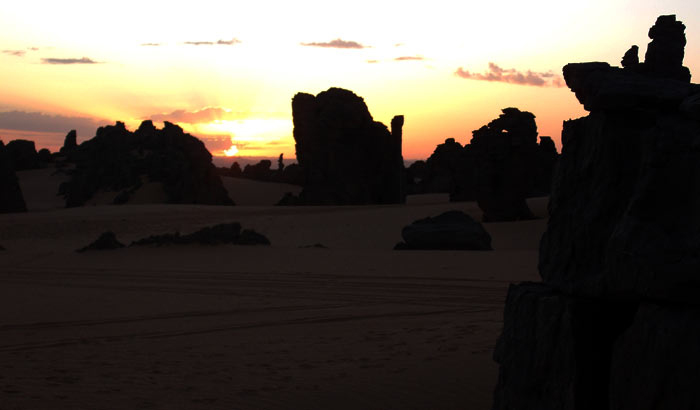 Meghedet - Wadi Aramet - Ghat
After driving through Meghedet you will cross into Wan Ergayea', a high area with large rock arch and sand. Leaving Wan Ergayea' you will drive for around 75 kilometres before reaching Aramet. (Driving direct from Awaynat you will reach Aramet after around 100 kilometres.) Wadi Aramet is a valley, initially covered in coloured sand, but then after driving through the valley for awhile you will reach an area with trees, plants and herbs, with some wild animals and a waterfall (running only after it rains). After that the valley crosses into Algeria. The valley of Aramet is a natural habitat for both the deer and waddan. The area is usually used by desert experts for setting up camp, among the sand dunes, in their way from Megheddet to Ghat and Acacus.  The camp is usually set close to Bir Armet - a water well dug by the government for travellers, and also for animals like camels, and so is an important transit stop. There is one famous prehistoric coloured picture in the area, located around 20 km from the water well.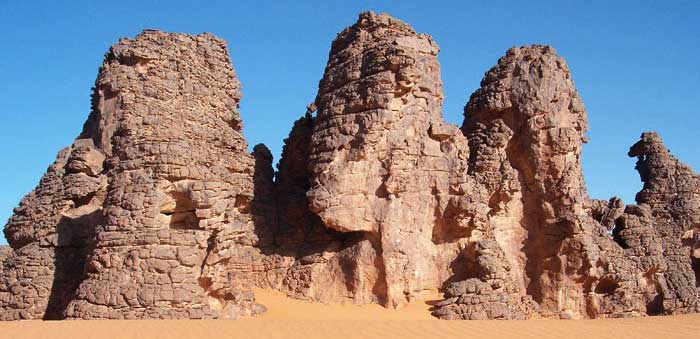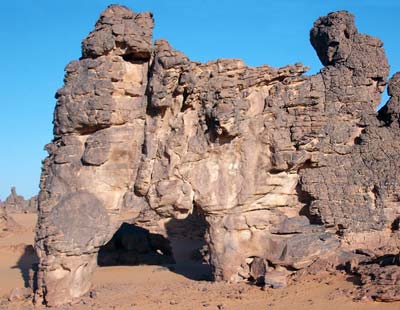 After Wadi Aramet you can either continue to Kaf Djnoun, then Bir Essakhen (the Hot Spring), and then to Ghat; or go down to Ghat then back to Bir Essakhen and Kaf Djnoun, before returning to Awaynat.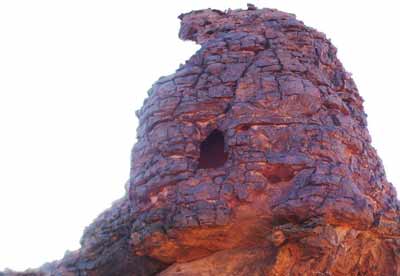 Natural, well-protected cave.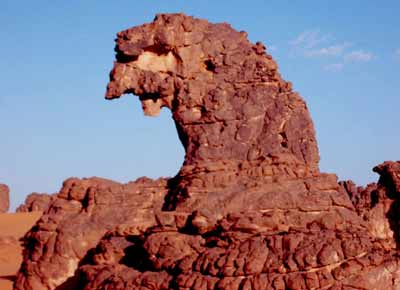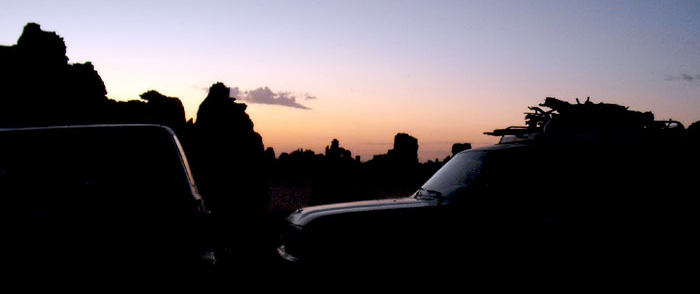 We can take you there for a night's sleep beneath the Sahara's stars.