Daraj - Awaynat - Adiri Route Through Alhamada Alhamra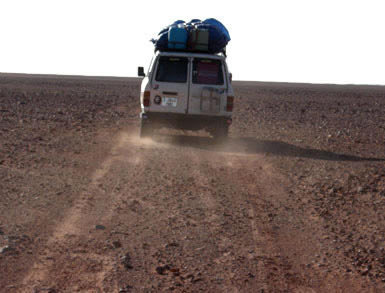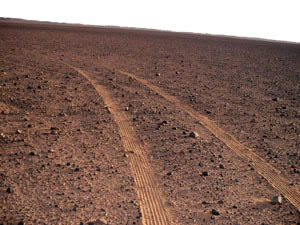 Rocky tracks of the flat Hamada (al-Hamada al-Hamra), shortly after leaving Daraj for Awaynat Wnin in the way to Idri.
.
Please note that there are three places in Libya with the name Awaynat:
Awaynat Wanin (along the route from Daraj to Adiri) - Hamada.
Awaynat (Tuareg name: Serdeles) (in the route from Germa to Ghat) - towards the Algerian border.
Awaynat (in the route from Khofra to Awaynat - by the Egyptian-Sudanese border)
.
There are three adventrous routes which tourists and travellers can take from Ghadames to the lakes and the Acacus area. The first takes from Ghadames to Awaynat and then Ghat, through Alhamada Alhamra (the Red Hamada); and the other two start from Daraj to Adiri, and then from Adiri either continue down to Awbari and the lakes, or follow the tarmac road to Brach then to Sabha. The tarmac road from Daraj to Sabha, via al-Qaryat and Ashshwayrif, is about 400 kilometres longer than the off-road Daraj -Adiri route, which cuts through the Red Hamada.
Ghadames - Ghat
This route goes through Alhamada Alhamra until you reach Tijida Iqennin, after which you contine through sand all the way down to Tafilalt. After Tafilalt you reach the tarmac road coming from Germa and continue to Ghat. The route crosses through the following areas (some of these names are not marked on any map and only Tuareg desert experts know their locations): Ghadames - Taneshri - Nazrah - Wan n Tfaskiween - Kerbt Wadad - Wan Fijajan - Imermaz - Ighar Mellen - In Azar - Bin Deqish - Tijida Iqennin (end of Hamada). Then through sand all the way to Timnukaleen - Azirigh - Awyetten - Timenloulen - Tachiumet - Tafilalt.
Daraj - Adiri
There are two routes taken from Daraj to Adiri. The names of the areas along these desert tracks are Tuareg names, mostly describing wadis and mountains along the routes. Some of the routes go along a sand desert, while others across a rocky desert:
Daraj - Wadi Meghrgher (about an hour drive) - Wadi Mana'ah - Wadi Tanarut (half an hour drive) - Bir Al-Ghuzayyil (see photo below). This is the first stop on the route where it diverges into three routes (see map below). Then after half an hour drive, you will reach Gara'et Saga'ohah - then after three hours drive you will reach Hamadat Wadi Mritayyin, then Awaynat Wanin, then all the way to Adiri, mostly through rocky desert, with some occasional sand tracks.
The second track from Daraj goes through Wadi Awal and then across to Wadi Didban (Daydaban: rocky desert), where it meets with the second dotted track diverging from Bir Al-Ghuzayyil; then to Wan Henked - Keddalah - Bir (or Ayn) Nahiyah - Bir (or Ayn) Dambaba - Wadi Syayil - Gerbaja - Adiri.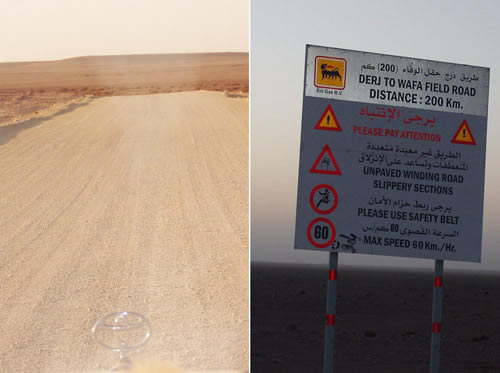 This wide track was improved by Agip, the company operating the gas field H'aqal al-Wafa nearby. Shortly after coming from Daraj, you will come into this road. After driving for a while, you will turn left, into one of the usual undeveloped desert tracks, while this road veers to the right towards the H'aqal al-Wafa.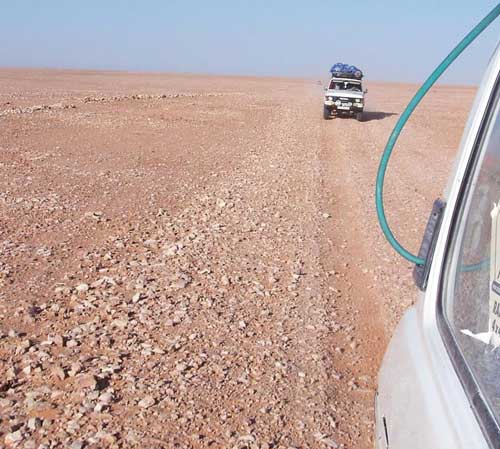 The Rocky Tracks of Alhamada Alhamra.

Bir al-Ghuzayyil, along Daraj - Alwaynat Winin Route.
Important note: the track junction near Bir Ghuzayyil divides into three tracks. Taking the middle one will take you into a sand desert which can be difficult to cross. Most deser experts avoid this option, and instead take the track on the left,which will take you through a rocky desert trackes and pistes and therefore are easier to cross. After taking the left one, you will come into another junction: make sure you take the right one this time, as the left one will take you back north; and then midway through this route you will need to turn right towards Awaynat Wnin.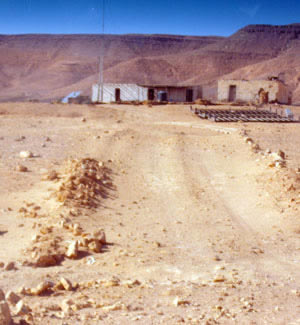 Just before arriving at Awaynat Wnin From Daraj, in the way to Adiri.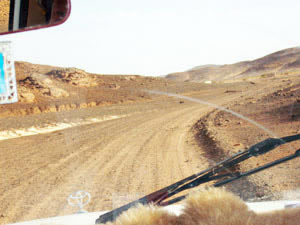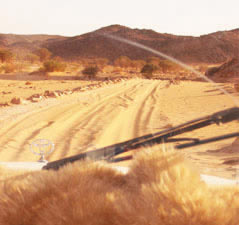 Different types of tracks shortly after leaving Awaynat Wnin towards Idri.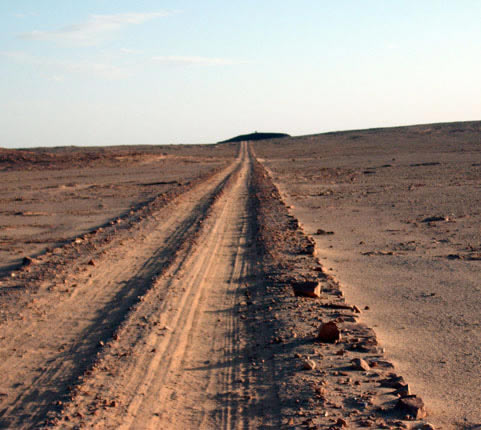 A while before arriving at Idri.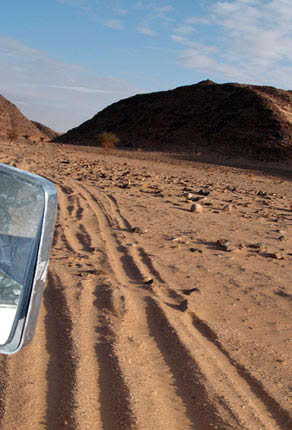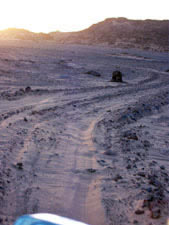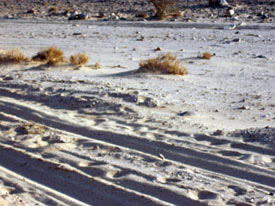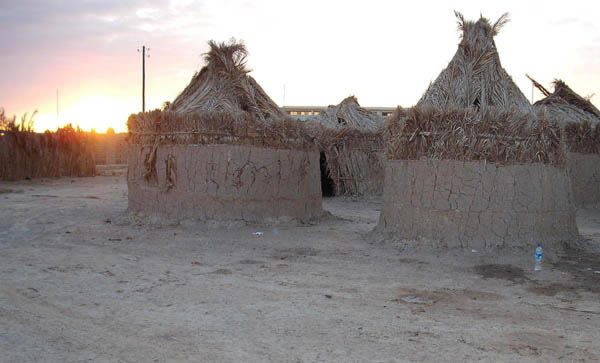 The adventurous tour route from Daraj to Adiri can take all day; although some travellers take their time and stay the night at Awaynat Wnin. The huts in the above photo are those of Idri camping site, which is now abandoned and therefore has no facilities or running services. However, arriving at Idri just before sunset, after a long drive through the rocky tracks and pistes from Daraj, makes Idri a popular stop in the way from Awaynat Wnin. A quite end to a tiring tour from Daraj.
Derj Idri Road Map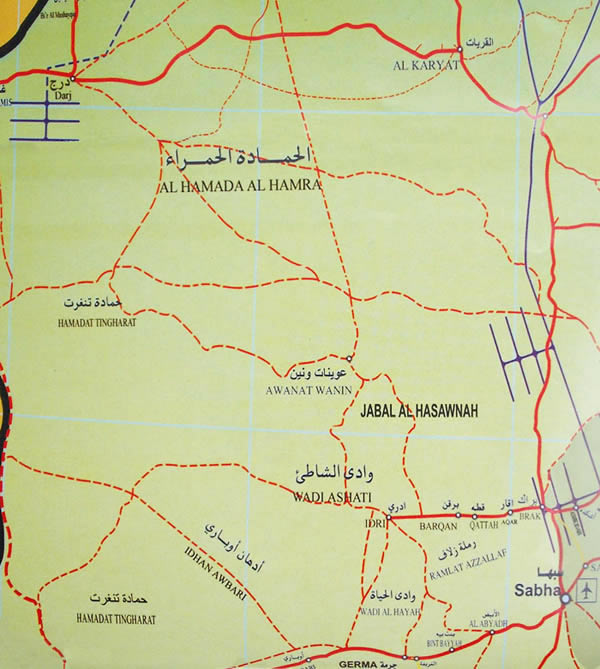 The Derj-Idri road map shows the main roads and tracks connecting the various settlements of Al-Hamada Al-Hamra between Derj, Al-Qaryat and Sabha, including Awaynat Wnin, Idri, Barqan, Brak, Wadi Al-Hayah, Hamadat Tinghert, Idhan Awbari, Awbari, Germa. The red-coloured, thick roads are main roads made of tarmac (see photo below). The red-dotted lines are tracks and pistes, either of hard, dusty, rocky ground littered with small stones, or sandy routes mixed with occasional stones.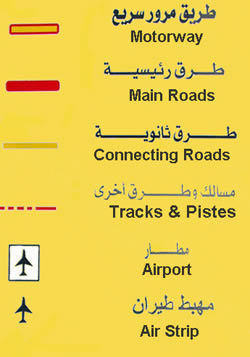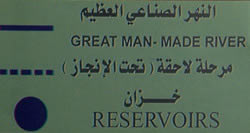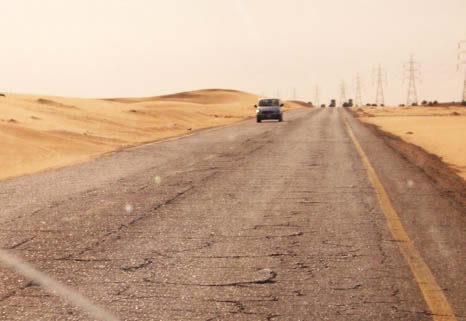 Back on the road. Leaving Adiri to Brach and then to Sabha.