Islamic Tourism & Ancient Mosques In Libya
Definition of Islamic Tourism

Islamic Tourism is defined as promoting tourism of and to Islamic countries. There are those who oppose it and there are those who suppose it. These issues were discussed at the International Conference on Tourism in Islamic Countries, held in Tehran, Iran, on March 2007, and a number of recommendations were accordingly made relating to Infrastructure Development Management, Foreign Policy & Tourism Development, and Media & The Development of Tourism.

However, Islamic Tourism as defined in this webpage has nothing to do with the above definition, because, for example, visiting Egypt (which is an Islamic country) to see the pagan pyramids and the Sphinx has nothing to do with Islamic heritage as such. What is meant by Islamic Tourism in this page is very simple: visiting Islamic archaeological sites, seeing Islamic monuments and mosques, and getting to know more about Islamic heritage, history, art and culture as a whole. The following data therefore will attempt to introduce the various historical Islamic sites in Libya, including photos of some of the most ancient mosques in Libya.

The Arrival of the Muslims in Libya

The Muslims arrived in North Africa during the first half of the 7th century AD. In 640 AD Amr ibn al-Ās (عمرو بن العاص‎) took Egypt before he advanced towards Cyrenaica in 641 AD, where he established his base at Barqa. He then moved on towards Tripolitania, where he removed the remaining Byzantine garrisons and took control of Tripoli in 642 AD. He was followed by Uqba (or Oqba) ibn Nafi, who moved towards Fezzan in 663 and took Germa, before claiming the Roman province of Africa in 670 AD and establishing his military base at Kairouan (Qayrawan), in preparation for the subsequent demolition of Byzantine Carthage.

Ancient Islamic Sites In Libya

According to an official map showing the archaeological sites in Libya, the Islamic period is defined to begin from 641 AD to 1800 AD. The most ancient sites are located along the coast. These sites are as follows:



Sabratha
Tripoli
Gharyan
Leptis Magna
Misrata
Sirte
Old Sirte
Sultan

Ben Jawwad
Ajdabiya
Benghazi
Almerj
Albayda
Cyrene
Darnah
Tobruk

Aljaghboub
Alkufrah
Awjla
Bounjeem
Ghadames
Sabha
Ubari
Ghat


Ajdabiya (Ajdabya)


The Ajdabiya area appears to have been a major Islamic centre during the early Islamic period in Libya, when the Fatimids began to arrive in Libya. Excavations at Tokra show that the ancient town was among the Cyrenaican sites occupied by the Muslims during the 8th century.

Other Islamic sites in Cyrenaica include the remains of a number of forts at several sites including Kharouba, Medinat Buhindia and Cyrene; a round tower discovered at Sidi Kherbish in Benghazi; and two baths one in Cyrene and the other in Darna.

One of the oldest Islamic inscriptions yet found in Libya (in Tripolitania) came from the tombstone of Bayan ibn al-Haythan. The stone was dated to 862 AD and was written in simple Kufic.

Ajdabiya Fatimid Mosque Remains

A corner section, inscriptions and fragments from the Ajdabiya Fatimid Mosque.

The remains of the Ajdabiya mosque date back to the Fatimid period (10th Century AD). The courtyard is surrounded by a single arcade, while the sanctuary facade is made of massive piers that have semi-circular niches, very much characteristic of the Fatimids. The aisles in the mosque run perpendicular to the qibla (the direction towards Mecca which Muslims must face when they pray). Many of the stone inscriptions found in this mosque are now housed in Cyrene Museum, in Cyrenaica. The above middle inscription records a "waqf" and is dated to 932 AD.

The Ajdabiya Fatimid Fortress Palace

Ajdabiya Fortress Palace

The Ajdabiya Fortress Palace, built by the Fatimids during the 10th century, has a rectangular base 33 metres long and 25 metres wide, with circular corner towers, and with more towers in between each two corners. The palace is regarded as one of the most important 10th century monuments in the whole of North Africa. It has a grand entrance complex, leading to a central courtyard 14 metres square, at the end of which located a suit of rooms. The central room had a semi-domed apse and columns, which with the elaborate entrance to the structure indicate that the palace could have belonged to an important Fatimid Caliph or Ruler. It has been suggested that the palace may have once served as a rest house for the Fatimid Caliph al-Mu'izz while he was on his way to Cairo in 972 AD, but this cannot be confirmed and it was probably based on historical data. Currently the palace is mostly in ruins. But according to Pacho, who visited he palace in 1824 AD, the structure had more walls and most of the corner towers were present in his engraving, with damaged roofs and surrounded by rubble. All it remains today is what you see in the above photo (taken in 2009 by a member of our team).






Umm Al-Barakeem

The remains of an ancient mosque in Umm Al-Barakeem, about 9 kilometres north-east of Ben Jawwad.




As-Sultan

As-Sultan is a small Libyan village located about 50 km east of Sirte, which was also known as "the ancient city of Sirte". The village was anciently known as Iscinia and Macomades, which the locals now call Medina (The City). The site has a little museum (Assultan Museum) housing some of Libya's Islamic heritage, including Islamic exhibits from the ancient mosque, oil lamps, and some information about the history of the Arabic Kufi style of writing, dating back from the period when the city served the Fatimid rulers (the sultans) with a strategic command point, ideally located between Libya's three provinces: Cyrenaica, Tripolitania and Fezzan.

This board from As-Sultan Museum gives some information about Arabic calligraphy, its types and development, particularly the Kufi style of Arabic writing. According to this board Arabic calligraphy was derived from the Nabataeans ( الأنباط ‎), also a Semitic people whose capital city was then Petra, in Jordan. The board shows some historical information about the origin of the Arabic Kufi (or Koufi) style of handwriting, which dates to the 3rd century AD - around the same time when the Arabic script made its first appearance as a derivative of Semitic script. It also classifies the types of Kufi as follows:




Simple Kufi
Leafy Kufi (from the shape of tree leaves)
Plant-based Kufi (written on branches similar to tree branches)
Plated Kufi
Geometrical Kufi

An Islamic inscription written in the Simple Kufi style.


Islamic glass coins from Old Sirte, currently on display in Assultan Museum.

Ancient Mosques In Libya

Medina Sultan Mosque

The ancient Sultan Mosque was discovered in the area of Sirte in 1963 and 1964. The mosque was built around the 10th century AD, when the Fatimids began to establish their foothold in Libya. The dimensions of the mosque are 41 meters long by 31 meters wide (41m x 31m).

 







Albarouni Mosque



Albarouni Mosque, Nafousa Mountain, West Libya.

Awjla (Awjlah) Mosque

Ancient mud mosque from the Berber oasis of Awjla, in Eastern Libyan.




Ghadames Mosque




An old mosque from the Old City of Ghadames, built according to traditional Berber designs.

Murad Agha Mosque In Tajura

Murad Agha Mosque is located in Tajura (Tajoura), in the district of Tripoli, about 15 km east of the capital centre. The mosque dates to the Ottoman Turkish period (starting at 1531 AD), when the Turks established their base at Tajura.

The Mosques of The Old City In Tripoli


A map showing the distribution of mosques in the Medina (the Old City of Tripoli).



1 - Qaramanli Mosque
2 - Al-Naqah Mosque

3 - Muhammad PashaMosque
4 - Darghut Mosque
5 - Gurji Mosque

6 - Mahmoud Mosque
7 - Sidi Salem Mosque

Al-Naqah Mosque



Al Naqah Mosque, Old City: Tripoli's oldest mosque.

It is thought that Al-Naqah mosque is the oldest surviving mosque in Tripoli, dating back to the first Arab ruler of Tripoli, namely Umer Ibn Al-A'as (Amr ibn al-Ās, عمرو بن العاص‎, c.573 - 664 CE). The structure is divided into square bays, each of which is surrounded by a dome. The domes are supported by ancient columns taken from earlier, much older, structures.

Gurji Mosque:



The sign is in Arabic, and says: the mosque of Gurji built by Mustapha Gorji in 1834 AD, who was the head of the port, and a close friend and the son-in-law of Yousuf Pasha Karamanli (1795 - 1832 AD). The building includes a school and a tomb (or a grave) of the founder. The project completed the maintenance and restoration of this architectural group in the year 1994. Signed as: the project of organising and managing the old city of Tripoli 2005 AD.





Located west of Marcus Aurelius' Arch, this small but beautifully decorated 19th century building was built by the Turks, and is considered one of the best examples of Islamic stone carvings and floral motifs in the capital. The mosque houses the tomb of Mustapha Gurji and his family. The upper and lower galleries of the sanctuary are beautifully tiled and decorated with geometrical designs. The columns, the windows and the Mihrab are all made of marble and inlaid with coloured stones.

Ahmed Pasha Qaramanli Mosque

The mosque, built between1736 and 1738, is the largest mosque in the medina and the most celebrated in the capital, with 30 domes and an Ottoman-styled minaret. The mosque houses the tomb of its builder and Tripoli's most famous ruler Ahmed Pasha Al-Qaramanli, the founder of the Karamanli dynasty. Its colourful ceilings are richly decorated with various geometrical patterns and Moorish designs. The wooden doors of the mosque are uniquely carved with floral decorations. The square sanctuary is linked to various tomb chambers and an open courtyard. The mosque is equipped with washing facilities and a school for religious teachings. The outer walls of the sanctuary are covered in tiles, decorated with geometrical forms based on plants and flowers, while the interior of the sanctuary is decorated with carved stucco in geometric designs and calligraphy.


Ahmed Pasha Al-Qaramanli Mosque
Timeline of Islamic events in Libya and North Africa:
https://www.temehu.com/History-of-Libya.htm#islamicTimeline
Modern & Recent Mosques
It is difficult to say how many mosques there are in Libya but it is evident that it is almost impossible to find a street or an area that does not have a mosque. Some mosques were named after the tribe that built the mosque; while others were named either after a holy man or after an influential ruler. The following mosques illustrate some of the modern mosque designs currently found in Libya. Of particular interest is the open-minaret design and the use of green colour.

Sidi Abd Alwahab Mosque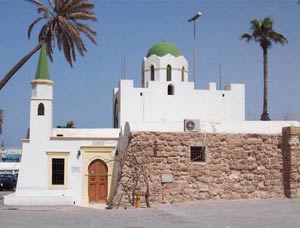 Sidi Abd Alwahab Mosque, Tripoli.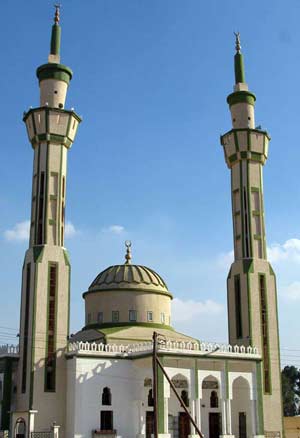 Double Minaret Mosque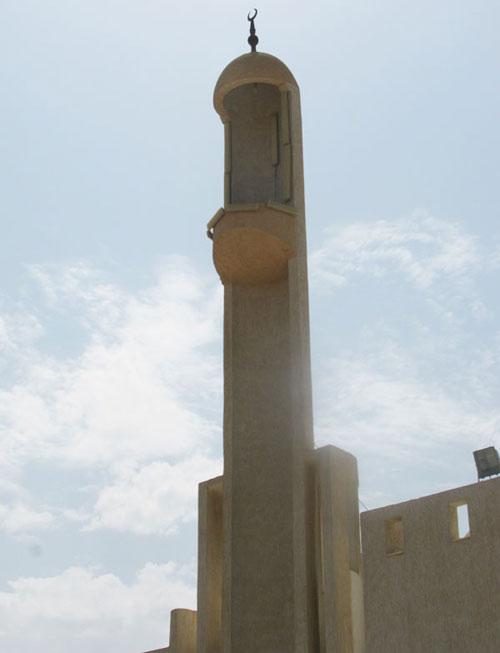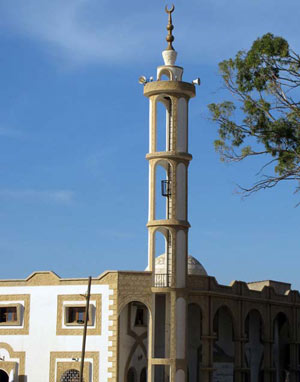 Open Minaret Mosque

Al-Qaryat Mosque, Alqaryat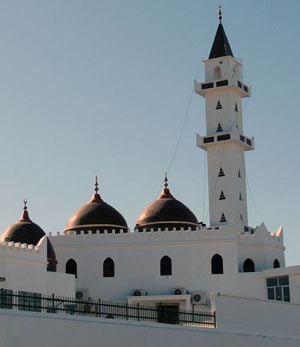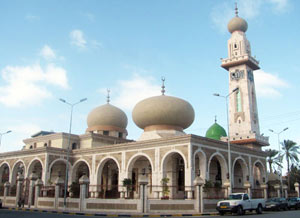 Souq Aljuma'a Mosque (Friday Market Mosque)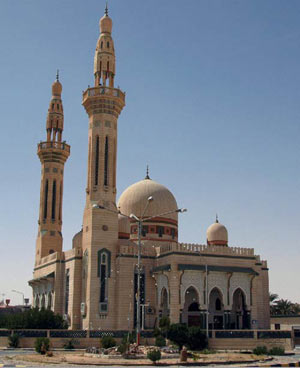 Modern mosque from Ghadames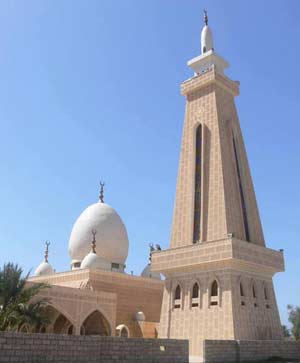 Serman City Mosque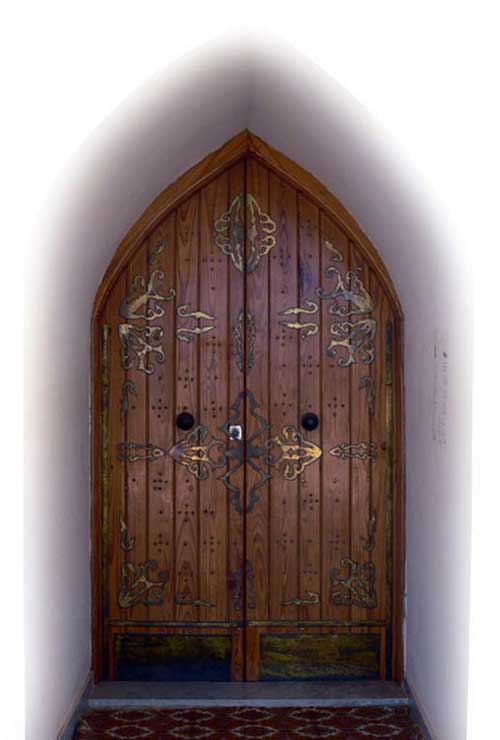 Entrance to S'urman City Mosque