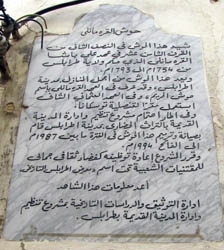 This house is located in Tripoli's Old City (Al-Hara), and was built in the second half of the eighteenth century, during the rule of Ali Pasha Qaramanli (1754 - 1793). Previously the house was known as "The Harem House"; while during the second era of the Othomans it was occupied by the Consulate of Tuscania. In the 1994 the house was restored by the Old City Project, and consequently was rehabilitated as a cultural sight under the name of "Tripoli Historical Exhibition", and officially inaugurated on the 27th of October 1994. The house houses a good selection of the objects normally found in a Libyan house from that period, including furniture, kitchen gear, copper and brass ornaments, clothes, jewellery, and vintage gadgets such as a gramophone, telephone and a radio. The name Qaramanli is written in various forms including Al-Karamanli, Caramanli or Al-Qaramanli. The Qaramanli dynasty consisted of a number of rulers generally known as Pashas, who ruled from 1711 to 1835 in Tripolitania and later in Cyrenaica and Fezzan. The dynasty was founded by the Turkish Ahmed Pasha Al-Qaramanli, and ended by Ali II Pasha Al-Qaramanli.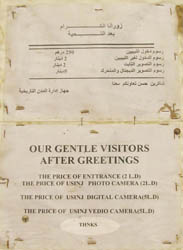 The above old notice showing entrance and camera fees.


Entrance Fees: 2 LYD; normal camera permission 2 LYD; digital & video camera permission 5 LYD. Current Entrance Fees: 3 LYD; camera: 5 LYD; video camera: 10 LYD.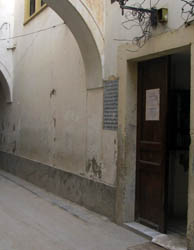 The main entrance to the museum house.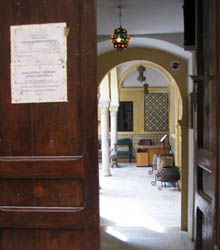 The entrance door to the house.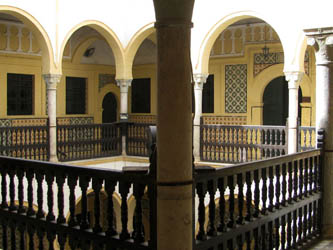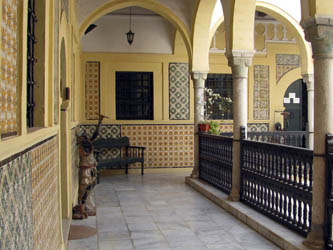 The Karamanly Dynasty (1711-1835):
Ahmad I Pasha (1711 - 1745)
Mehmed Pasha (1745 - 1754)
Ali I Pasha (1754 - 1793)
Ali II Burghul Pasha Cezayrli (1793 - 1795)
Ahmad II Pasha (1795)
Yusuf Pasha (1795 - 1832)
Mehmed (1817)
Mehmed Ibn Ali (1824)
Mehmed (1826)
Mehmed (1832)
Mehmed Ibn Ali (1835)

Ali II Pasha (1832 - 1835)
The Living Room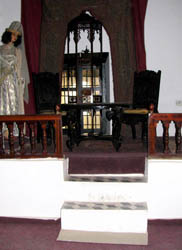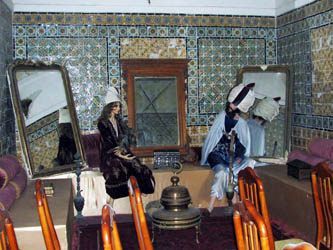 Man and a woman in traditional attire, sitting around a mirror.
The Bedroom
Dar An-Namousiyyah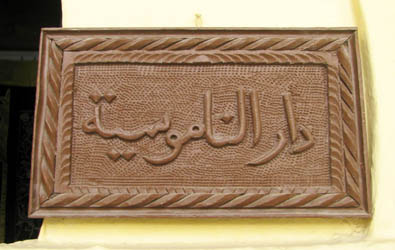 This sign says: "The Bedroom" (Dar An-Namousiyyah).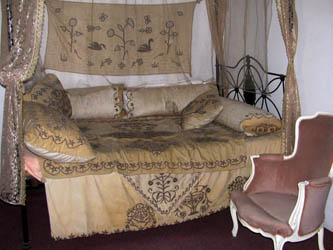 Stylish bed with embroidered sheets and hanging curtains.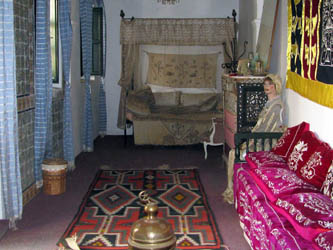 A lady sitting in her bedroom, nice and tidy.
The Clothing Room
(Dar Al-Albisah)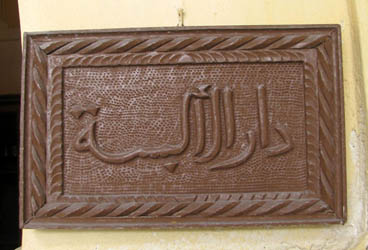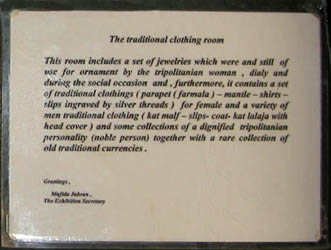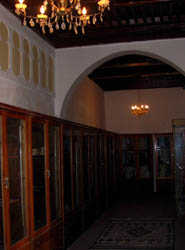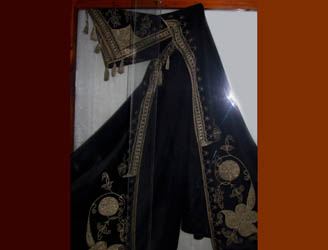 Traditional barnus (hooded cloak).