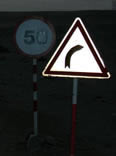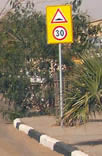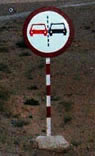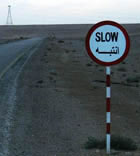 Driving & Road Signs in Libya:
Driving in Libya requires extra caution and vigilance. Road signs are often in Arabic, although signs for tourist sites, like Wadi Methkhendoush (above), are often found in Arabic and English, and therefore foreign drivers are faced with the dilemma of driving without road signs, except those image-based signs (like the camel above), which are universal.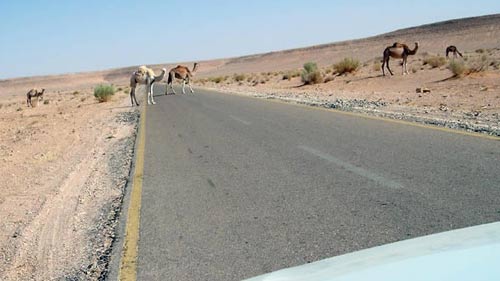 The huge distances separating Libyan cities and sites also makes it difficult for the police to monitor and enforce traffic regulations and as such there are those who do not pay any attention to road signs despite the fact that they are written in a language they understand. There will always be people who will break the law in any country in the world, and that is why law was invented in the first place. So always assume that bad drivers are around!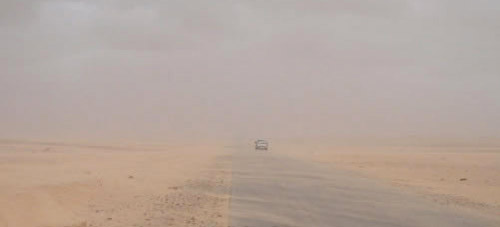 Leaving Nalut for Ghadames: this is one of the main routes you need to watch out for.
Other things to watch out for include wind-blown sand which render visibility poor, build-up of sand mounds in the middle of the road, stray animals crossing the road, especially camels, high speed, reckless driving, using cell phones, and foolish drivers coming from nowhere into the main road (this is so because some of the roads in Libya are higher than the ground level and thus some drivers coming up into the main road cannot see incoming cars and drive straight into a collision). According to a recent report released by the Libyan Ministry of Public Security, there were about 263 car accidents in Libya in one week, between the 19th and the 26th of July 2008; leading to 60 deaths and 123 injuries.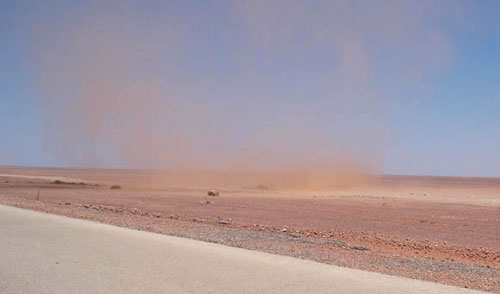 Sand Tornado (simple twister)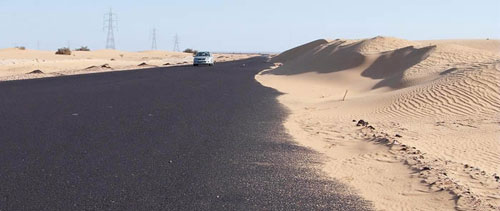 Sand encroaching a tarmac road.
Sometimes small sand dunes pile up right in the middle of the road; which can be very dangerous at night, if you are not familiar with the area. It is well recommended that one rests at night.