Great Man-Made River (GMMR):
النهر الصناعي العظيم

In 1953, searching for oil beneath the sand the Libyans have instead struck massive fresh water reserves, some of which amazingly only a mere 100 meters below the surface. The largest being the Kufra Basin, which has an estimated groundwater storage capacity of 20,000 cubic kilometres; followed by the Sirt Basin, with 10,000 cubic kilometres of water; the Murzuk Basin, with a storage capacity of 4,800 cubic kilometres; and the Hamadah Basin, with a capacity of 4000 cubic kilometres. Research has shown that aquifer replenishment in the coastal areas is 500 million cubic metres per year, which does not meet the demand of 4.7 billion cubic metres per year. Also there has been an increase in salinity in the coastal aquifer.
Libya receives hardly any rain (just ten millimetres to 500mm), while due to the high heat evaporation rates are very high (1700mm in the north to 6000mm in the south). As a result of all these factors, and after considering the available options including the creation of desalination plants, transportation of water by tankers, and conveying water by pipeline from southern Europe, it was decided that there is no solution to the water crisis in Libya other than the creation of the Great Man-Made River.
The project aims to extract water from the underground reserves and transport it to the various cities and towns across the north of Libya. On the 28th of August 1984 Col. Gaddafi laid the foundation stone of the project in Sarir; then on the 28th August 1986 he inaugurated the Brega plant to start producing the pre-stressed concrete pipes required for the project.
The water reserves discovered in Libya, according to some sources including the Water Pressure Group, were said to have been estimated by scientists to equal 200 years of water running down the river Nile; while according to an article published by Green Prophet the reserves should last for a period of 4,860 years, based on an annual extraction of 1.38 billion cubic meters; and therefore given the global shortages of fresh water some analysts fear the reserves may become a target of future exploitation.
In addition to gas, oil, wars and water Libya also rich in Saharan infinite solar power. Scientists and government experts say covering less than 1% of the world's deserts with concentrating solar power plants could produce 100% of the electricity used in the whole world.
Dubbed The Eighth Wonder of the World, the GMMR is the largest civil engineering projects in the world:
The authority operating the Great Man-Made River (GMMR) is known as the Great Man-Made River Project (GMRP).
The project is the worlds largest pre-stressed concrete pipe project.
Abdelmajid Gahoud: project manager of the GMMR.
The idea of the GMRP was first conceived in 1984.
Inauguration: 1991.
Aim: extracting water from an ancient desert aquifer, 500-800m deep, purifying it, then transporting it to the northern cities and towns of Libya.
Cost: 33 billion dollars in capital investment and running costs over 50 years.
Viability: more economical than desalination plants.
Reserves: predicted recoverable reserves would last for 4,860 years.
Delivery: over 6.0 million m3 (5260 acre-feet) of water will be conveyed every day.
Structure: a network of 5,000 kilometres of 4-meter diameter, pre stressed, concrete cylinder pipes (PCCP).
Current network: 4,000 km of pipes.
Criticism: un-sustainability: mining ancient fossil water will never be replenished by the Sahara's scarce rain.
The Great Man Made River Authority was established by law No. 11/1983, issued on by the Libyan GPC (General People's Congress).
Funding law No. 10/1983 was issued on the 3rd of October 1983 to fund the project. The funding comes from levies on fuel, tobacco and international travel, as well as from loans from banks and the general Treasury.


Water Reservoirs
As part of the project huge concrete reservoirs were constructed  in various parts of the country; some of which supply water to the various lines used to regulate and provide on demand potable water, while other reservoirs were constructed in circular lakes, more than 1km in diameter, for agricultural projects. Nearly 70% of the water conveyed by the project is intended for agricultural purposes, while the remaining amount is for domestic consumption throughout the year. The main reservoirs include:
Ejdabiya Reservoir (storage: 4000000 cubic meters)
Omar Elmokhtar Reservoir (storage: 4700000 cubic meters)
Omar Elmokhtar  Grand  Reservoir (storage: 24000000 cubic meters)
Ghordabiya Reservoir (storage: 6800000 cubic meters)
Ghordabiya Grand Reservoir (storage: 15400000 cubic meters)


Pipelines
There are a total of 4071 kilometres of pipelines in the project:
1600km of pipelines in Sarir/Sirt - Tazerbo-Benghazi system
1277km of pipelines in Hasouna-Jeffara system
190km of pipelines in Assdada-Ajdabiya system
383km of pipelines in Tazerbo-kufra system
621km of pipelines in Ghdames-Zuwarah system.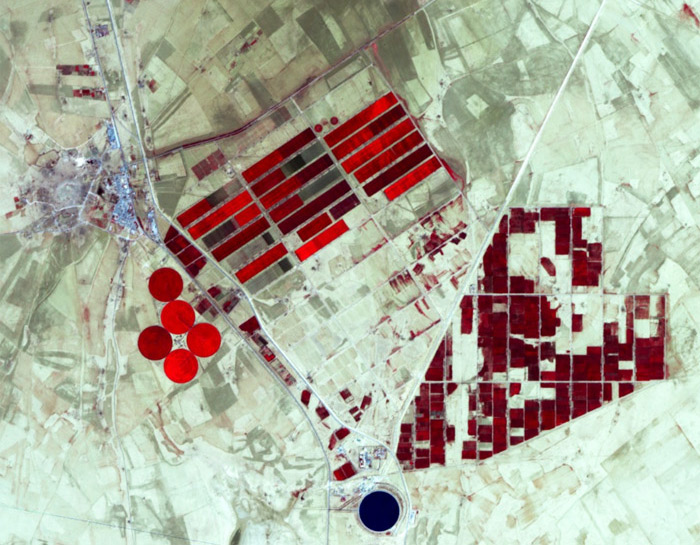 NASA's false-colour image of the Grand Omar Elmokhtar Reservoir Project. vegetation (red); buildings (gray); bare ground (beige); water (dark blue).
Wells
Out of 1300 wells planned there are currently 1116 production wells in the project, producing a total of 6.5 million cubic meters of water daily, and divided as follows:
476 wells in Hasouna field
300 wells in Kufra field
126 wells in Sarir field
108 wells in Tazerbo field
106 in Ghdames field
Contractors:
Among the main companies taking part in the project are:
Dong Ah Construction Industrial Co. Ltd - dongah.co.kr
SNC-Lavalin - snc-lavalin.com
Price Brothers Company - pipesite.com
Pure Technologies Ltd - puretechnologiesltd.com
Freyssinet International & Cie. - freyssinet.com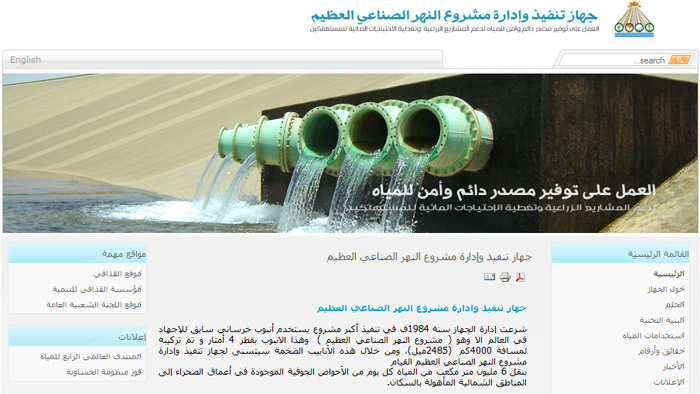 Screen shot of the Arabic website of the Great Man-Made River Project (GMRP): gmmra.org
The Total Cost (so far) of The Great Man-Made River Project
Phase 1: US$ 5.53 billion
Phase 2: US$ 8.05 billion
Phase 3: US$ 6.0 billion
Contact Details

Tripoli:

P.O. Box: 81188
Ben Gheshir
Tel: (+218) (22) 692001-6
Fax: (+218) (22) 6931826

Benghazi:
P.O. Box: 641 – 9468
Hawari RD
Tel: (+218) (61) 22 25091-2
Tel: (+218) (61) 22 30254-5
Fax: (+218) (61) 22 39591
GMMR Maps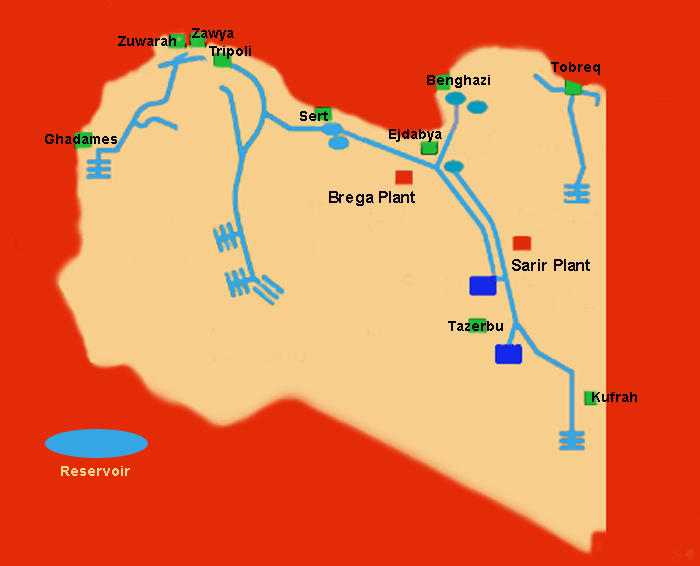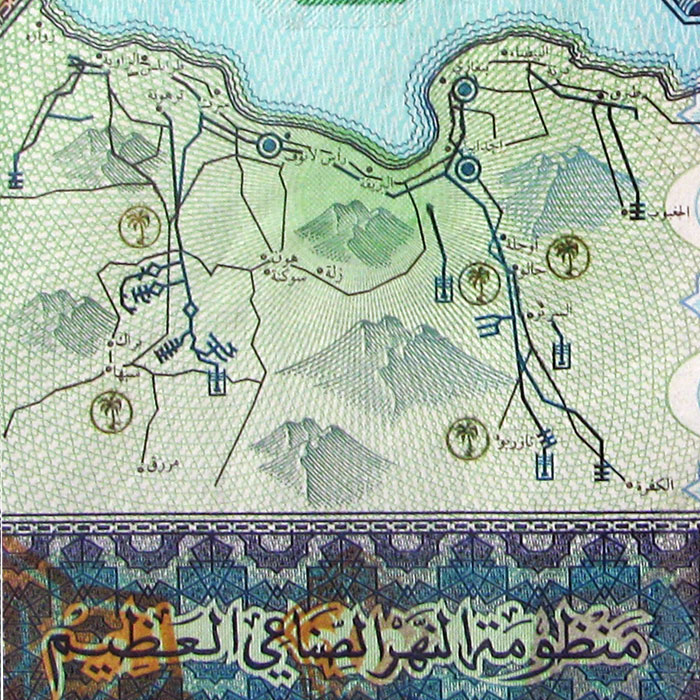 This map is printed on a Libyan 20 Dinar note.