Introduction To Hotels, Hostels & Campsites In Libya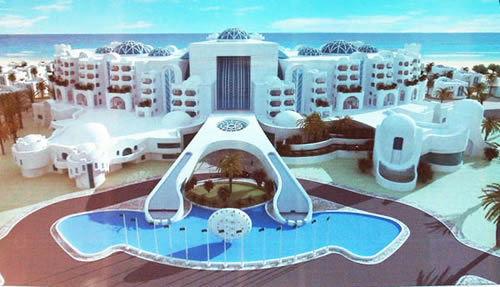 A Model of The Planned Zuwarah Tourist Beach Hotel
Hotels in Libya
There are not enough hotels to meet the growing demand, especially during the months between October and January, partly due to the sudden arrival of tourists from all over the world, after the recent changes in Libyan law regarding tourism, and due to the large number of tourists arriving in the winter to avoid the scorching heat of Libya's summer. However, new hotels and tourist resorts are being built and planned for the coming years (like the one pictured above). Although Libya is new to tourism it has the intention, the will and the resources to plan ahead. Management and expertise however are something else!
Hotel Classification in Libya:
The categorisation of Libyan hotels is a problematic issue that no one as yet can define. There are many confusing classification reports freely circulating the Internet regarding 5, 4 and 3 star hotels in Libya, most of which contradict each other. For example, al-Kabir Hotel (Grand hotel) is classified as a 5-star hotel by some websites and by the local yellow pages; as a 4-star hotel by other websites; and as a 3-star hotel by the Libyan Directory of Tripoli International Fair. According to one Libyan list published by the General Board of Fairs, the total number of hotels is 268, with a total of 13,638 rooms. Out of these only 62 hotels are classified.
Hotel Prices in Libya
It is almost impossible to keep up with the constantly changing hotel prices in Libya and therefore we recommend confirming the latest prices directly with the hotel in question via the contact details provided. The contact details themselves change from time to time and therefore we will always attempt to publish the web address of the hotels that have a presence online. Many of these hotels do publish their prices online, especially the established ones, like Corinthia hotel. The newer and smaller hotels still have decades of work to catch up with the current international standards.
However, the governments has recently ordered the closure of dozens of hotels for health & safety reasons, and as a result many of the remaining hotels have changed their prices due to heavy demand. It is because of this reason that we have removed the prices of some the hotels in our galleries as they have become irrelevant and difficult to keep up with their never-ending change. If you have booked your tour through us then we will inform you of the current cost.
Actual prices for budget hotels start from 40 Libyan Dinars; 3-star hotels range from 80 to 150 Libyan Dinars for a double/twin room; while 4-star hotels start from 175 and can reach up to 375 Libyan Dinars for a double/twin room. 5-star hotels range from 575 to 750 Libyan Dinars. Hostel prices range from 10 to 20 Libyan Dinars per a bed.
The following hotel prices are taken from the decree issued by the Libyan GPC, and therefore should be, but not necessarily have been, observed by all hotel owners in the country. This means that some of the prices you will be charged may, and often will, vary from those listed below.
Hotel prices in Libya as set by the GPC
1 Star
Single
35 LYD
€20
Double
45 LYD
€25
Wing
55 LYD
€30
2 Star
Single
45 LYD
€25
Double
55 LYD
€30
Wing
70 LYD
€40
3 Star
Single
65 LYD
€36
Double
85 LYD
€47
Wing
100 LYD
€56
4 Star
Single
95 LYD
€52
Double
115 LYD
€63
Wing
145 LYD
€80
5 Star
Single
135 LYD
€75
Double
170 LYD
€94
Wing
215 LYD
€120

Prices vary according to exchange rates. (LYD = Libyan Dinar; € = Euro).
New Law

regarding hotel prices in Libya

The Libyan Tourism Board has issued a new law which in effect cancels the above law, and is published in its website (the website is currently not available). The new law introduces new conditions, as follow:
It is against the law to charge more than the following prices and hotel owners will be penalised according to the regulations set by the "Price Watch" legislations (Article 4).


Breakfast must be included in the price (Article 1).


Hotels must display their list of prices clearly so that visitors can see it, in both Arabic language and another foreign language (Article 3).


The following prices are the maximum prices hotel owners can charge (Article 1):
The names of room types (in the grey boxes) read from top right to bottom right:

single room; double room; wing; excellent wing; private wing.
1 - Star
2 - Sats
3 - Stars
4 - Stars
5 - Stars
Room Type
To read the full text of the above law please see:
Law No. 7 regarding hotel prices in Libya
List of 5-Star Hotels
Corinthia Bab Africa Hotel, Tripoli
Alwaddan Hotel, Tripoli
Radisson Blu, Tripoli
JW. Marriott, Tripoli
Rixos Al Nasr, Tripoli
Zuwarah Resort, Zuwarah
List of 4-Star Hotels
Elkhan
Zumit
Dar Ghadames
Dar Tellil
Tripoli International
Awal
Blue Ship
Thobacts
Ouzu
Alburdi
Burj Almadina
Plasma
Tibesti
Al-Manara
Four Seasons
Asshajara
Bab Albahr
Oasis
Alnoran
Amal Africa
Diplomatic
Safwa
Alkendy Hotel
Alkabir (The Grand)
List of 3-Star Hotels: (includes 2- and 1-star hotels)
Addeyar, Tripoli
Adoha, Tripoli
Africa, Misrata
Aljawhara, Tripoli
Alanees, Tripoli
Albareed, Tripoli
Aldeawan, Ghadames
Al Fatah, Sabha
Alhadiqah, tripoli
Al Jabal, Sabha
Alkhabeer, Ben Jawwad
Alkhaleej, Tripoli
Almabrouk, Tripoli
Almadina, Khums
Almahary Sabha
Almahary Sirt
Almanar, Tripoli
Almaydan, tripoli
Almokhtar, tripoli
Al Nadi, Benghazi
Al Qala'a, Sabha
Alrehab, Tripoli
Althuraya, Tripoli
Amwaj, Tripoli
Andalus, Tripoli
Andulus Beach
Andulus Sidi
Arab World
Arayan, Tripoli
Arraha Inn, Benghazi
Arrasheed
Assafai, Tripoli
Atlas
Attawfeek
Bab Almadina
Bahr Alabyad
Bait Asharq, Tripoli
Beach Wings
Beach Hotel Aannex
Beirut
Ben Yedder, Ghadames
Carthage, Tobruk
Cleopatra
Dar Germa, Germa
Dar Gharyan
Dekna
Eljadid
Eurba
Fadeel Raslanuf
Fadeel
Ferdous
Fezzan Park
Four Seasons 2
Golden Beach, Tripoli
Granada
Green Field
Green Mountain
Haiti
Hani
Hospitality
Ibn Fernas
Intisar
Janzour
Jawda
Karama
Leptis
Libu Saraya
Loaloa
Maghrib
Mgaryef
Mamoun
Marhaba
Masira
Muntazah Cyrene
Nalut Tourist
Najma
Naser
Naher
Naqazah
North Africa
Nouzha
Okhwa, Tripoli
Olympic
Omar Alkhayyam
Qafilah
Qaser Albayda
Qaser Libya
Qasr Addiwan
Rabta
Sabratha
Sahary
Salam. S
Salam. M
Safeer, Khums
Saraya
Sea Gull
Sirte Complex
Severus, Leptis Magna
Shati
Sinbad
Siyahe
Tajoura Village
Teba
Tkerkiba Tourist
Tripoli Modern
Tunis
Unity
Usama
Youser
Waha
Welcome
Western Coast
Western Tripoli
Yefren Tourism
Zahrat Alkhaleej
Zliten
Hostels in Libya
Hostels in Libya are available in most major towns, with a few in the capital itself. Please click on the above link for a list of Hostels in Libya. With experience we have come to learn that several of our visitors who have chosen this service during their enquiries came to regret or change their minds after arrival, saying the quality was not as expected. We think that for 10 LYD (about 5 euros) one ought not consider quality as an option, let alone knowing that before hand!
Camping & Camping Sites in Libya
Camping in Libya is allowed and is free, except in designated camping sites where a small fee is payable for the services provided, like electricity and showers. Our guide to camping in Libya will provide you with all the basic information you might need, including a note about the allowed camping sites.