Temehu Map Collection
Libya Maps
Although Libyan law stipulates that Sahara travellers must be accompanied by a local desert expert, one still needs to use specialist maps and GPS devices, as none of the local experts knows all (or even a fraction) of the locations of the various sites of interest in the Sahara. In fact, even the best map in the market only features a rough guide to the locations of a tiny selection of the hundreds of thousands of cave drawings and rock engravings scattered across the desert; and therefore complete maps of the Sahara are yet to appear.
These pages will attempt to collect information, resources, links and maps relating to Libya and the Sahara. There are a number of GPS websites currently attempting to build a global database of GPS coordinates, based on public contributions. Our current collection so far includes a number of maps originally produced by the US Army Map Service and used here courtesy of the University of Texas Libraries at Austin; which although are not as detailed as, say, EWP's Jabel Acacus Map, they still nonetheless show the main features of the landscape, tracks and (of particular importance) the old local names, some of which have now disappeared from memory. They also cover a large area of Libya.
We have also customised a number of Google maps to allow a number of tools including distance calculator (which measures distance between any two points on the planet); coordinates finder (which gives the coordinates of any place on earth simply by one click); and Panoramio photos from all over Libya. Google maps are very easy to use and have been used worldwide to discover a number of new features, craters and sites. We have also linked to the interactive Gazetteer database by the American National Geospatial-Intelligence
What is a topographic map?
Topographic maps show the shape and the main features of the land. The topography of any given area is shown by contours or brown lines representing different elevations:
thick brown lines (Index Contours) define the actual feature and give its height.
thin brown lines (Interval Contour) give the variation in elevation: very close lines mean steep slopes, lines with large gaps indicate gradual slopes.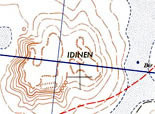 What is scale?
It is the ratio representing the relation between a distance on a map and its corresponding distance on the land. For instances, a scale of 1:100,000 means that 1 unit on the map is equal to 100,000 identical units on the land. Use the link to Scale Calculator (see below) to find the actual value of any scale unit.
Map Scale Calculator:
Scale Calculator: beg.utexas.edu/GIS/tools/scale2.htm
Using the tool available at the above link, you can calculate the actual value of any scale unit by typing only the representative fraction of your map: for example: if the map scale is 1:100,000, enter 100000 in the box provided.
Examples:

Representative = Value in inches
1000 = 0.015 miles per inch
5,000= 0.078 miles per inch
10,000= 0.157 miles per inch
15,000= 0.236 miles per inch
25,000= 0.394 miles per inch
50,000= 0.789 miles per inch
100,000= 1.578 miles per inch
125,000= 1.972 miles per inch
150,000= 2.367 miles per inch
175,000= 2.761 miles per inch
200,000= 3.156 miles per inch
500,000= 7.891 miles per inch
1,000,000= 15.78 miles per inch
1250,000= 19.72 miles per inch
1,500,000= 23.67 miles per inch
1,750,000= 27.61 miles per inch
2,000,000= 31.56 miles per inch
2,250,000= 35.51 miles per inch
2,500,000= 39.45 miles per inch
2,750,000= 43.40 miles per inch
3,000,000= 47.34 miles per inch
Scale Values & Location of Prime Meridians
kb.nl/skd/skd/mathemat.html
Mathematical data for bibliographic descriptions of cartographic materials and spatial data
Navigation
Using Map & Compass:

egsc.usgs.gov/isb/pubs/factsheets/fs03501.html
This guide provides detailed instructions for how to use a map and a compass to find your way around and determine the direction from one point on the map to another.
The Royal Institute of Navigation (RIN):
rin.org.uk/
Commercial Maps of Libya

Jabel Acacus - Tourist Map & Guide (1:100,000)
Publisher: EWP
ewpnet.com
UK supplier: West Col Productions, Reading, +44 01491-681284.
Libya Road Map (1:1,750,000)
Publisher: Gizi Map
gizimap.hu
Sahara & Environs (1:2,200,000)
Publisher: International Travel Maps.
itmb.com
Africa North & West (1:4,000,000)
Map Number: 953
Publisher: Michelin
michelintravel.com

GeoNames
GeoNames is an online geographical database of Latitude and Longitude coordinates of geographical places from any country in the world. The database is licensed under the Creative Commons Attribution 3.0 License, and currently includes over eight million placenames that are available for download free of charge, from: geonames.org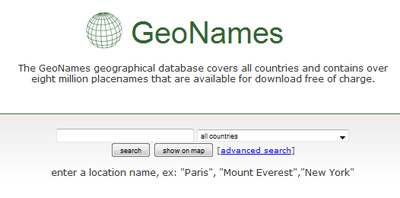 http://www.geonames.org/
NGA: Geonames Search - OGC Viewer
The American National Geospatial-Intelligence Agency Gazetteer Database:
geonames.nga.mil/ggmaviewer/MainFrameSet.asp
The term geospatial intelligence implies collecting information via mapping, charting and geodesy, and then evaluating the data to describe the actual physical features and their geographically-related activities on the ground. A Gazetteer is a database or a list of geographic place names and their longitudes and latitudes. The above link leads to an interactive database on which you can click the desired location to display its coordinates and find its local name(s). The geonames features will be displayed only when the scale is approximately 1: 2,000,000 or larger, so if names do not appear, just keep
The World of The Landsat Satellites & Their View of The Earth
The Landsat's mission is to collect, archive, and distribute data of all the Earth's land surface.
zulu.ssc.nasa.gov/mrsid/mrsid.pl
The first Landsat was launched on July 23, 1972, to initiate a new era of Earth observation from space for non-military purposes. The information collected is now the standard for Earth observations. Landsat circa 1990/2000: click on the map to zoom in/out, or 'Select Image' from the menu below the map and click on the desired region on the map to display the image in a new window.
Satellites
Heavens-Above.com:

heavens-above.com/
"Real-time satellite, ISS, and Space Shuttle orbital pass information, maps, and star charts."
NASA's World Wind
Download World Wind For Free, directly from worldwind.arc.nasa.gov/
NASA's open-source-program World Wind is similar to Google Earth - except in that it is free - very handy indeed if you just want to publish an actual image in your website, rather than having to link to it via embeded script. The Landsat Global Mosaic (except for i-3 visible layer), Blue Marble, and the USGS raster maps and images are all Public Domain. (Please note that not all data provided by the add-ons is Public Domain). The downloded program includes the required: .NET runtime, and the managed DirectX library. For download: worldwind.arc.nasa.gov/ ; for user manual: learn.arc.nasa.gov/worldwind/ .

NASA's Global Maps: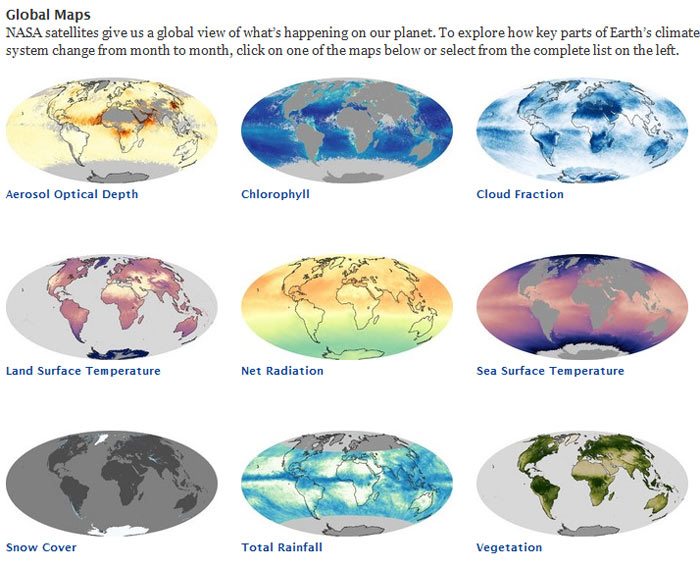 Follow the link (earthobservatory.nasa.gov/GlobalMaps/)
then click on any map to see the data moving through the year, month by month.


Solar & Lunar Data:
Sun & Moon Rise & Set, Eclipse Data, Phases of the Moon, Day & Night, Navigational Star Chart, and more:
usno.navy.mil/USNO/astronomical-applications/data-services
This link provides tools and tables for finding times for sunrises and sunsets, moonrises and moonsets, eclipse data, phases of the moon, hours of day and night in different locations, navigational star chart, and many more related data and calculators.
Moon Phase Images:
tycho.usno.navy.mil/vphase.html
View the phase of the moon for any date and time between the years 1800 and 2199 AD.