5 Star Hotels
Corintia
Waddan
Radisson
JW Marriot
Rixos
Zuwarah

Corinthia Bab Africa Hotel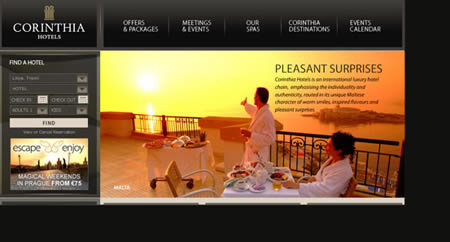 Address:
Corinthia Bab Africa Hotel
Souk Atthulatha Algadim (Alqadeem)
P.O. Box 82874
Tripoli
Libya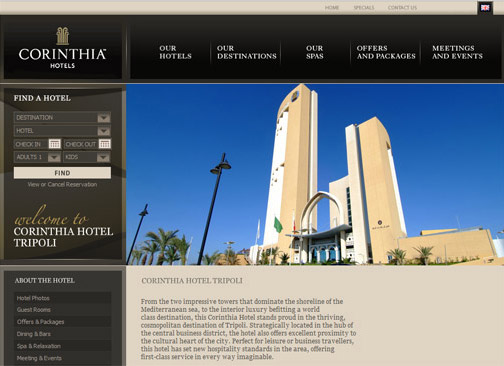 Contact:
Libya:
Mr Joseph Pisani
Director Libya
Tel: +218 21 335 1990
Fax: +218 21 335 1917
Reservations:
Tel: +218 21 3351909
Fax: +218 21 3351920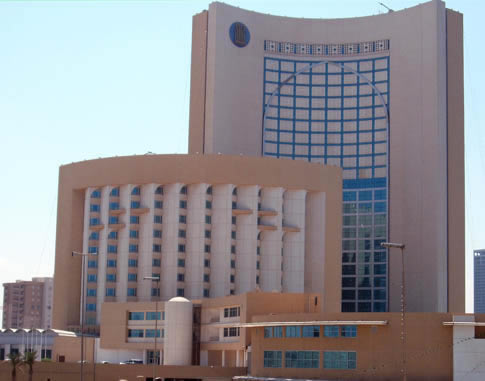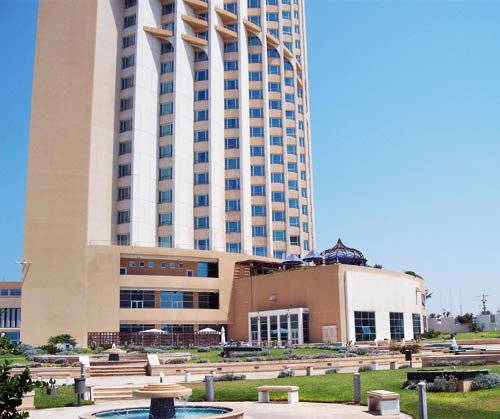 Facilities & Services:
Leisure centre
Baby-sitting
Business centre
Car park
Currency exchange facilities
Executive club lounge
Express check out
Hi-tech communication equipment
Indoor swimming pool
Landscaped gardens
Laundry
Limousine on hire
Multilingual hotel staff
Outdoor swimming pool
Room service
Shopping gallery




Hotel Rooms
299 luxury guest rooms and suites: air conditioned, telephone, audio TV link, satellite television, and interconnecting rooms on request.
1 presidential suite: located on the 24th floor, comprising reception area, office, fax machine, video hall porter, king size bed, spacious living and dining area, and interconnecting room if required.
5 executive suites: located on the 25th floor, with king size beds, luxurious furniture, with access to the executive club lounge.
28 luxury rooms: located on floors 20-24, with designer branded amenities, king size beds, with executive lounge access.
45 executive rooms: located on floors 16-24, comprising queen sized beds, traditionally designed modern furniture, designer branded amenities.
220 deluxe standard rooms: located on the remaining floors, comprising twin or queen size beds and standard facilities, and interconnecting rooms on request and subject to availability.


Hotel Dining
Tripoli Cafe (snacks, pastries, sandwiches, ice-cream)
Fes Restaurant (Moroccan cuisine)
La Valette Restaurant (International cuisine)
Venezia Restaurant and Terrace (Italian restaurant)
Orient Asian Restaurant (Indian cuisine)
Website: www.corinthiahotels.com/

Al Waddan Hotel

Luxury Botique Hotel

Located in the heart of the Libyan capital, tucked between the palm trees and the shrubs that line the beautiful cornish along the shores of Tripoli. The hotel is the oldest in Tripoli, going back to 1930s. It is managed by Intercontinental Hotels Group, and has a business board room, equipped for 20 delegates, with Internet connection, audio & visual equipment, IP technology, and all meeting support.
Address:
Al Waddan Hotel
Sidi Issa Street
Dahra
P.O. Box 2309
Tripoli
Libya
Contact:
Tel: +218 21 333 0044
Fax: +218 21 333 0041
Email: sales@alwaddan.com.ly
Rooms:
The hotel has 90 furnished bedrooms and a verity of suits, equipped with full range of amenities:
individually controlled air-conditioning units
wireless Internet
electronic safe
a bank branch
minibar
flat screen televisions
satellite channels
restaurant
car-rental agency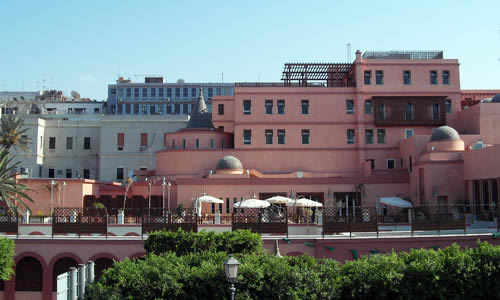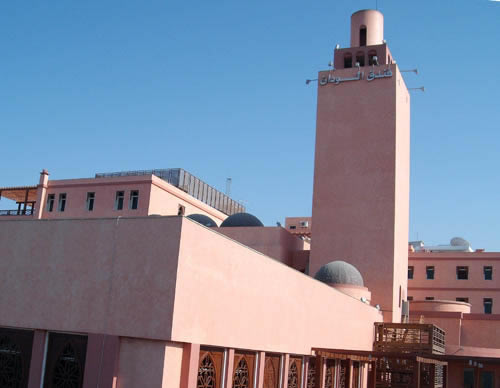 Website: www.waddanhotel.com/

Radisson Blu Hotel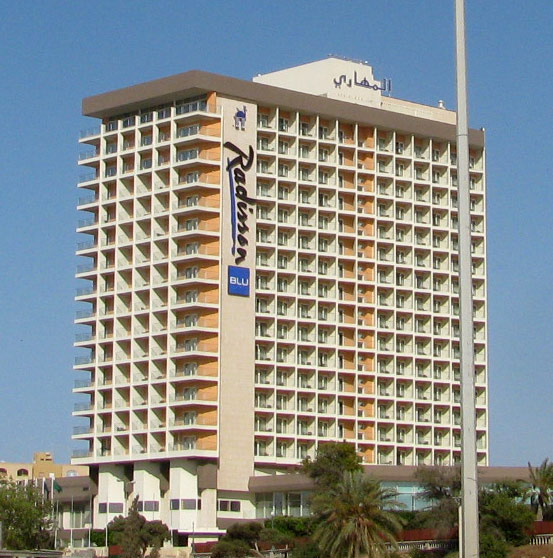 The Radisson Blu Hotel.
This 5-star hotel is located in the centre of the capital Tripoli, about 800 meters from Martyrs Square, quite close to the Red Fort. It has a good view of the city. Previously the hotel was known as Almahary or Mehari Hotel (as still shown at the top of the block in Arabic). The new hotel was opened in late 2009.
Address:
Radisson Blu Hotel
Al Fatah Street
P.O. Box 84278
Tripoli
Libya
Contact:
Tel: +218 21 3407878 ; +218 21 3334090
Fax: +218 21 3334094
http://www.radissonblu.com/
Rooms & Features:
Floors: 15
Rooms: 321
Presidential Suites: 4
Suits: 30 Suites
Conference centre
Restaurants: 2
Swimming pool
Gym
Health centre
Sauna
Bars: 2


JW Marriott Hotel Tripoli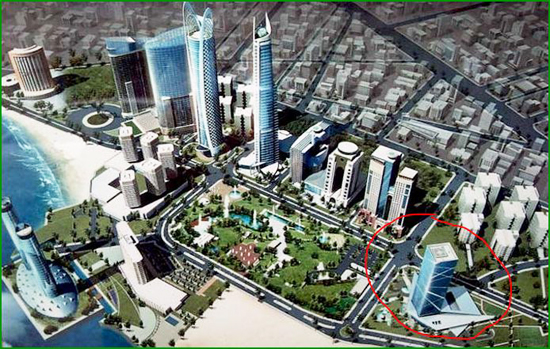 The JW Marriott Hotel Tower, circled in red (bottom right)
Expected to open in February 2011

The newly built JW Marriott Hotel Tripoli is located near Tripoli and Boulayla towers, just 30 minutes from Tripoli International Airport (about 35 km). Its glossy glass & metal façade impressively set it apart from the surrounding towers.
"The lobby is modeled on the Great Reception Room in the Palace of Sicily, with its marble staircase, chandeliers and water features evoking the luxury of Southern Europe."
Address:


JW Marriott Hotel Tripoli
Corner of Al Kurnish & Via Angelo Road
Tripoli
Libya
Contact:
Sales:  +218 918965031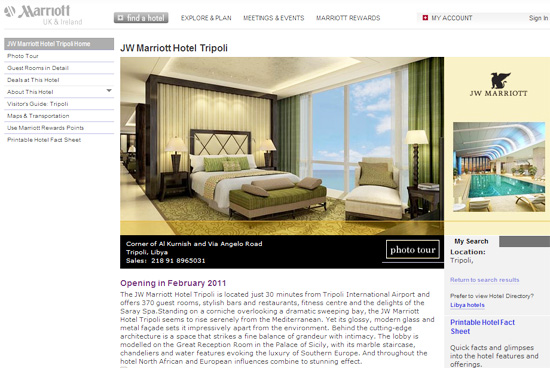 Rooms & Features:
Rooms: 370
Cable channel: CNN
Cable/satellite TV
Colour TV
Movies/videos, pay-per-view
Phone feature: voice mail
Stylish bars & restaurants
Coffee/tea in-room
Fitness centre and the delights of the
Saray Spa
Service animals allowed for persons with disabilities
Air conditioning
Alarm clock
Crib
Electrical adapters
Individual climate control
Pillows: down/feather
Pillows: foam
Rollaway bed
A safe
Guest Services
Full-service business centre
Room service
Safe deposit boxes, front desk
Swimming:
Public Beach (0.5 km)
Foreigner Beach - security controlled, crystal water in a cove, beverage station, quiet relaxation (36 km)
Indoor Lap Pool
Outdoor pool
Whirlpool
Indoor/outdoor connecting pool


Rixos Al Nasr Tripoli Hotel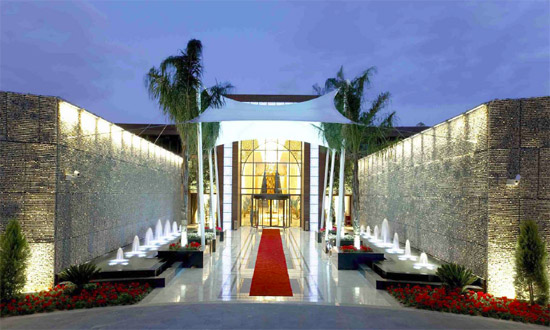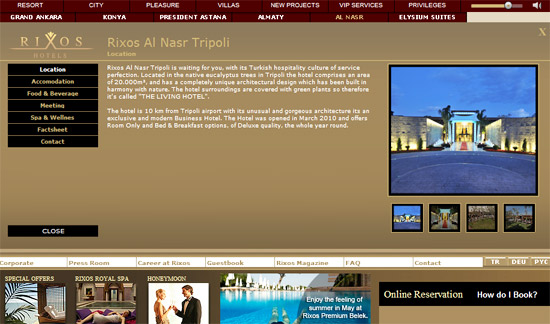 Address:
Rixos Al Nasr Tripoli Hotel
Near The Guest Palace
Akhadra Hospital Bridge
Tripoli
Libya
Contact:
Rixos Al Nasr Tripoli
Te: +218 21 362 2901
Fax: +218 21 362 2911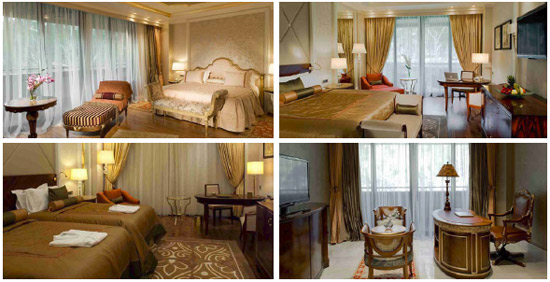 Photos are screen shots from the hotel's website (www.rixos.com/sss.aspx)
Facilities & Services:
120 Luxury Rooms
2 Residential Suites
32 Executive Suites
9 Junior Suites
Business Rooms (with 42" satellite Plasma TV)

Website: www.rixos.com/
Zuwarah Tourist Beach Hotel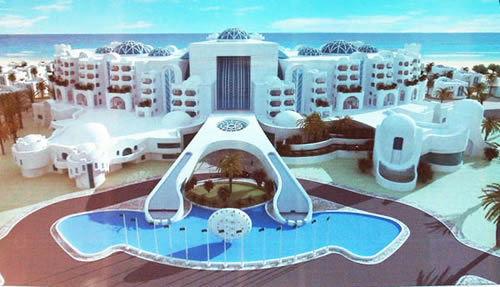 This complex is a model of the 5-star Zuwarah Tourist Beach Hotel, to be built by the
United Libyan Company For Tourist Investment, in association with Geosan Group.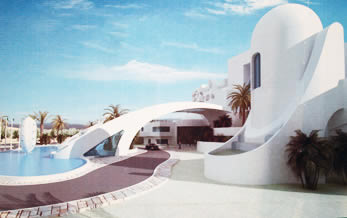 The hotel is classified as 5-star hotel, with an area of 3 hectares, containing 220 rooms, in 34 wings, with various facilities, including:
tennis fields
complete diving centre
swimming pools
gardens
commercial centre (shopping centre)
car park